Local SEO changes incredibly often, and the factors that determine rankings can be vastly different than with national SEO campaigns. While SEO may seem daunting to someone getting started, the process is actually super simple when broken down. Below is a bit of a guide I've thrown together from various talks I've given, with answers to some commonly asked questions.
It's a bit long, so it might be best to bookmark and come back and reference it whenever you need to give your site a boost or get some guidance. As always, if you have any questions please schedule a consultation (it's free) and we can always sit down and talk about a strategy for your brand.
When I read articles on guides on local SEO, they focus a lot on the content that's on the site and the links pointing to the site. While both of these are important, they're only about a combined 40% of the Google Local search equation. Things like reviews, social signals, Google My Business profiles, and behavioral cues all contribute to a site's position in the rankings and cannot be forgotten. I've included how much they weigh (as a percentage) next to each category title.
Why SEO?
Ranking well is crucial in today's marketing environment for a local business. If your goal is to get more service-based clients (say, photographers, wedding planners, or plumbers), sell more at a physical location (stores, boutiques), or get more traffic to your business (restaurants, hotels) then local SEO may be an extremely profitable way to do so.
76% of users who search for something local on their phones visit a business within a day
28% of those searches result in a purchase
30% of all mobile searches have some sort of local intent (say, Akron electrician)
82% of smartphone users say they use search to find local businesses
Searches for "near me" have grown 2.4x year-over-year.

I really can't make it any clearer, "if you want to grow, use local SEO!" (that rhymes, kinda)
So, where will your site show up?
Google Local Packs
When we talk about Local SEO, we're mostly referring to the Google Local Pack (or, Google Snack Pack for restaurants – which has a much cooler name).
Whenever you type in "location + industry", like "Akron Plumbers" you'll get some ads at first, followed by the local pack shown here.
There's the business name, reviews, the address, phone number, hours, directions, a link to the website, and a map with all the locations.
This information is all added via Google My Business(which we'll talk about in the next section).
The Google Snack Pack is a slightly different version of this for those in the hospitality industry. It additionally has a price range and an image but lacks a phone number a link to the website. Restaurants, hotels, and those in the entertainment industry will normally see this instead of the Google Local Pack.
Now, let's take a look at the first thing that influences our ranking – Google My Business.
#1. Google My Business (14.7%)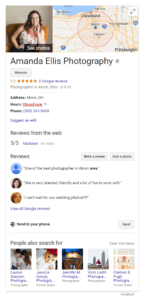 The very first thing you should do is sign up for a Google My Business account. You can do so here where you'll be able to put all sorts of information about your business up. At the very minimum, add a Name (duh.), address, and phone number. Your address can be a PO Box if it's written as a street address (they'll mail you a verification card), and your phone number should be the main business number you'll want to be listed everywhere. Take note of exactly how you write your name, address, and phone number and save it somewhere. We'll use this in the next section.
You should also add hours (if you keep them), and images. As of last week, Google also added the ability for businesses to write posts on the Google My Business page where they can showcase special offers and information. You can read more about the new posts feature from this Google Guide.
You should add your Google My Business profile before doing anything else on the site.
Common Question: My business looks like it's listed already, but I don't have control over it.
Answer: If it's unverified, you can claim it through Google's process outlined here. If it's verified, you can follow the Google process here where Google will try to contact the owner and if not claimed within a week, will become unverified where you can follow the unverified claim guide.
#2. External Location Signals (13.6%)
External Location Signals are just a fancy way to say directories and help provide Google more information on your local business. We want to submit our site to both data aggregators (which are sites that submit business location data to other sites), and then directly to directories that are relevant to you.
I use a tool called BrightLocal to get listed on these aggregators and directories, but there are also ways you can do it yourself. I prefer BrightLocal just for the time-saving aspect, as it's only $55/yr for all "Big 4" aggregators and $3 for each directory. Plus, they'll give you a nice little panel where you can manage everything. The submissions are also manually done, which are better than Yext as if you ever decide to cancel your listings won't revert back to the way they were.
When you're working on adding these directories, make sure your name, address, and phone number are submitted exactly the same way it is on your Google My Business profile and site. Any discrepancies (even minor) can get you penalized.
#3. On Page Signals (20.3%)
On page signals tend to be what most guides focus on the most. I hear constant shouting and posting about making sure your keywords are all in every title and description and so many nonsensical places that the only thing you're doing is hurting your on-site experience and making Google think you're just a spam site.
I'm going to go through a few major factors for on-page SEO, but there are plenty more thorough guides out there on the topic. This is just to get your feet wet a little bit and act as a guideline.
1. NAP Information: This is the way your name, address, and phone number is written on your site. It should be the same as your Google My Business profile and the directories you submitted to earlier.
2. Meta Titles & Descriptions: These are the titles and text snippets you see on the Google Search results page. Most site builders will allow you to edit these, to make them sound a bit more enticing, descriptive, and gain more clicks. If you're on WordPress, Yoast is a great tool for this.
3. Content: Your site should have a decent chunk of content on it. Include testimonials, add a good solid description of yourself, and add information on the services you provide. Aim for at least 300 words on any page you write (especially blog posts). Remember, Google cannot read images so make sure you're giving enough info for the robots to get some context.
Just sit down, clear your desk, and write. Bonus points if you carry this much intensity.
4. Security: You're going to want to add an SSL to your site in the coming months. While it's not a super important factor now, it's growing in importance fast. Most site providers allow you to pay yearly to do this, but if you're on WordPress you can get a free one with CloudFlare or Let's Encrypt. Please, please, please – backup your site before you mess with this stuff!
An SSL is the green lock, and https:// before a URL.
5. Responsiveness: Make sure your site loads well on phones. Phones have surpassed desktops as far as site traffic goes, and Google will penalize you if your site has issues.
You can see whether or not Google has detected issues with the mobile-friendliness of your site on this page. It's good to also test it yourself, as a bad mobile experience will turn away potential customers.
If you take the test, and your site is determined to be not responsive – fix it immediately. This is a high priority item.
6. Speed: The faster your site is, the more customers you'll get. Every 1-second reduction in speed normally results in a +7% increase in conversions. This means more money for you (and who doesn't like more money).
If your site lives on a place like Weebly, Wix, Squarespace or Showit – there's not a ton you can do. Working on reducing image size would be my biggest suggestion with those.
Load up your site on Pingdom and get an idea of how fast it loads, and how large the page is. Aim for under 3 seconds, and under 5 MB. 47% of mobile users expect a site to load in less than two seconds.
Pingdom is going to give you a list of resources that are loaded on the page. Everything from every image, font, and CSS & HTML file will be represented here individually. Take a minute to figure out what's taking a long time and work on that.
On Pingdom, if your "Wait" time (the yellow) is the bulk of it and your site is over 3 MB, you may want to look at improving your server. I recommend Cloudway's for hosting, but there are other options out there as well. A $3/mo GoDaddy plan probably isn't going to cut it.
If you have WordPress, install WP Smush and work on compressing those image sizes down. It's not going to affect quality, but again – still backup before. You can also hire someone to go through and speed up your site for you (hint, hint) but it's not necessary. If you're comfortable getting technical, Google "Speed Up WordPress" and spend a few hours digging through some of the guides. There's a ton of free resources on the topic out there.
Note: When running tests on Pingdom to see if you've improved, make sure you select the same testing location. I highly suggest using a US location, I commonly use Dallas, Texas.
7. Misc: Add your site to Google Webmaster Tools, and submit a sitemap to Google. Make sure that Google is also able to crawl your site from here. You can verify your Webmaster tools account with your Google Analytics account if you already have that setup.
Again, this is not a comprehensive on-site SEO guide. There are plenty of those already out there. This is just to give you some quick tips you can work on right away, and act as a general guideline to what Google's looking for.
#4. Link Signals (20%)
Links pointing to your site are important to let Google know that you're credible. Links can come from other blogs, news sites, some directories, and a few other places. When you work on link building, there are three main things to consider.
1. Link Quantity: The number of links pointing to your site matters, and the more the better! Just make sure they follow the rules below and you're good to go.
2. Link Quality: Sites linking to your site should not be from the shady parts of the internet. Just think about it, freeviagrapills.blogspot.com or harvard.edu? Which would you trust more?
Login to your Google Webmaster Tools account and navigate to Search Traffic > Links to Your Site in the left sidebar. If you see any links there that look they don't belong, you can go ahead and click on them (in the panel, don't actually visit spam sites!) and disavow them. This will let Google know not to count the site. Make sure you only do this to sites that are spammy, and not legitimate links.
3. Link Relevancy: Make sure the links you focus on building are relevant to your business. If you're a wedding photographer, a link from another photographer or makeup artist is going to carry more weight than one from a plumber.
Collaboration on stylized shoots gives a good opportunity to build links to your site from others in your industry if you're in the creative services niche. Otherwise, guest blogging is still a viable route.
#5. Review Signals (8.4%)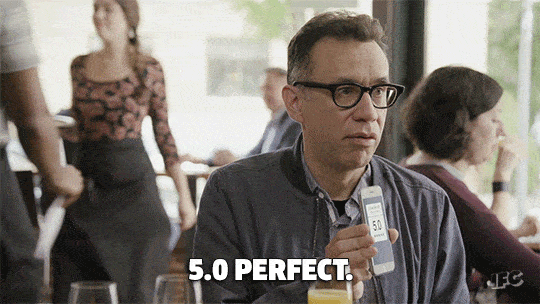 Reviews to your site from a Google My Business profile help in two ways. First, they let customers know that your business is legitimate and help build trust. They also give a metric with which Google can compare your site to others.
Think no one reads your reviews, or they're not worth the time? Wrong – the eTelling Group found that 92% of consumers look at reviews when making a decision on a vendor. 74% of users won't select a vendor with a poor reputation, and a 1-star difference normally results in a 5-9% change in revenue for a business. 84% of consumers put the same amount of trust in online reviews as they do in personal recommendations, reported BrightLocal.
Reviews are actually easy to get as well, most of us are just afraid to ask. They believe they're going to either inconvenience their customer or even if they ask no one will do it. The truth is, 7/10 consumers will leave a review for a business if asked to.
Google looks at 3 different factors when determining whether or not a review impacts the ranking.
1. Review Quantity: The number of reviews you have matters, you're going to need a minimum of 10 to see any real difference but the more the better.
2. Review Quality: If all of your reviews are one star, you're going to run into trouble. More stars = better rankings, so put some time into pleasing your customers and address and remedying situations with ones that aren't pleased.
3. Review Velocity: The rate at which reviews currently come in plays a role too. A business that hasn't gotten a new review in 6 months, but still overall has more reviews than you may be outranked if your reviews are coming in steadily and a higher rate than them.
If your marketing strategy puts much more weight on Facebook than SEO, aim to get the reviews their first. Just remember, the reviews submitted directly to Google My Business are going to carry more weight.
Tip: You can get a direct link from your Google My Business profile to your review page. Build this into your workflow when finishing a project.
#6. Social Signals (5%)
Social signals play a very small role in the rankings, but it's worth noting that the number of Facebook likes, Twitter followers, and the number of people who have you in their Google+ Circles may provide a small boost.
This would not be my first focus when developing a search strategy. The time involved in growing communities on these sites are not worth the small bump you may see (though, you may get customers directly from these communities so it's definitely a strategy to look into separately from SEO).
#7. Behavioral Signals (9.5%)
The way people interact with your site and your listing play a role as well. If you're in the #3 spot, and everyone is clicking on yours over the #1 spot – the rankings may get flipped as Google determines you're more relevant to what people are searching for.
If people are clicking on your site and leaving quickly, or not exploring much you may see some penalties as well. You can see this via your Bounce Rate and Time On Page from within Google Analytics. Work on providing better content and usability to your visitors to improve these factors.
#8. Personalization
If I look up a local business and click on the #6 spot, and then come back up and look up the exact same thing the site I clicked may have moved up in the rankings. There's unfortunately nothing you can do to influence this, though I still listed it as it does play a role.
Wrapping Up
I know there's a lot of content here, and it might seem really scary if you've never done any of this before. My advice is just to start with what looks easiest (normally the Google My Business profile) and then go from there.
If you have any questions whatsoever, leave a comment and I'll do my best to answer them! I've also included my slides from a presentation I gave at the Kent WordCamp below if anyone wants to check them out.